The 2nd Meeting of the APG for WRC-23 (APG23-2)
19 - 23 April 2021, Virtual Meeting
APG23-2 was attended by 630 participants from 25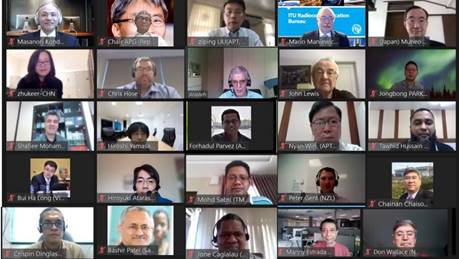 Members, 1 Associate Member, 27 Affiliate Members, 6 International/regional  Organizations and 2 Observers. The main objective of the APG23-2 was to review the on-going progress of the ITU-R studies on WRC-23 Agenda Items and develop APT Preliminary views on those Agenda Items. Mr. Masanori Kondo, Secretary General of APT delivered the welcome address. Mr. Mario Maniewicz, Director, Radiocommunication Bureau, International Telecommunication Union (ITU) also addressed the meeting as an invited dignitary. The opening address was delivered by Dr. Kyu Jin Wee, Chairman of the APG-23.
Even though it was held virtually, APG23-2 was highly productive. The meeting established various Drafting Groups on WRC-23 Agenda Items and nominated the Chairmen of the Drafting Group. A total of 53 contributions were received  from APT Members on the preliminary views on WRC-23 Agenda Items and on other issues. The meeting considered the current status of the ongoing studies at ITU-R on Agenda Items and the input from APT Members on those studies. Information document on each Agenda Item was prepared and presented by the Chairmen of the respective Drafting Groups.  Based on the discussion and consensus reached, APG23-2 adopted APT Preliminary views on most of the Agenda Items. Those APT Preliminary Views have been made publicly available on APT website. 
APG23-2 further reviewed the issues related to the preparation of Radiocommunication Assembly 2023 (RA-23). The meeting also discussed possible revision of the APG Working Methods and decided to carry forward the issue for further consideration at APG23-3. APG23-2 approved a liaison statement to APT Preparatory Group for ITU Plenipotentiary Conference 2022 in relation to the question of invocation of ITU Constitution Article 48 in Relation to the Radio Regulations at WRC-19. The meeting also discussed the time frame for future meetings of APG-23 considering the current situation. The preparation of ITU and other regional organizations such as ASMG, ATU, CEPT, CITEL and RCC for WRC-23 were also noted by the meeting.
The next meeting of the APG-23 (APG23-3) will be held in November 2021.
Click here for more details.