August 2021
z

Recent Events
Training Course on Preparing for International Conferences 2021
5 July – 23 July 2021
APT organized The Training Course on Preparing for International Conferences 2021 from 5 to 23 July 2021 in partnership with the International Telecommunication Union (ITU). It was provided as an online training course through the ITU Academy and funded by the Extra-Budgetary Contribution from Japan (EBC-J) to the APT.
The objectives of this training course, called as "Mock Conference", were to provide an opportunity especially for the young generation to learn about international conferences, their structure, decision-making process, roles of chairman, and basic skills of negotiations and discussions etc., and to participate in actual negotiation and discussion through role-play exercises and simulated international conferences.
The training course consisted of 3 modules. The first module is a series of lectures. The second module is to follow up the lectures through assignments and Quiz.  The third module is to provide a practical exercise. This year, it tried to simulate the ITU World Telecommunication Development Conference 2021 (mock WTDC-21). All the trainees experienced necessary discussions and negotiations through the process of drafting one regional proposal as a Resolution to the mock WTDC. In the closing ceremony, the Secretary General of APT congratulated the trainees and delivered the message that he expected actual participation of trainees of this course at any of APT meetings in the future.
The 21st APT Policy and Regulatory Forum (PRF-21)
19 – 21 July 2021, Virtual/Online Meeting
APT organized the 21st APT Policy and Regulatory Forum (PRF-21) virtually from 19 to 21 July 2021. The Forum was attended by 266 participants from APT Members, Associate Members, Affiliate Members, International Organization and other organizations.
There are mainly four features that illustrate PRF-21:
· First, recognizing significant role of ICT, specifically during the time of COVID-19 pandemic, PRF-21 had a special Ministerial Session where Ministers and Vice Ministers from APT Member Administrations shared insights, experiences, policies being implemented with regard to the fight against the COVID-19 pandemic and digital transformation, which was an objective of the Singapore Statement adopted by the ICT Ministers of APT.
· Second, PRF-21 had a special roundtable session among Head of Regulators. Following the outcomes of the World Radiocommunication Conference of ITU in 2019, sharing their experiences on handling challenging issues of 5G from various aspects would be beneficial for all APT members.
· Third, PRF-21 has a business dialogue session through which industry representatives shared their views on the strategies to accelerate 5G deployment and other related issues. This session offered an opportunity to discuss ways on how industry and policy makers and regulators collaborate to achieve a common goal.
· Fourth, PRF-21 featured two thematic sessions, 'Development and Status of OTTs' and 'Driving Innovation in Digital Economy'. There were keynote speeches on 5G and Innovation Ecosystem. These are important aspects in promoting ICT markets and society and keeping them energetic and agile.
In addition, there had been long discussion in the past about how to promote PRF and to make it more meaningful and productive. PRF-21 adopted revision of the Working Method which will make PRF more meaningful and productive.
The 22nd APT Policy and Regulatory Forum (PRF-22) will be held in Q2 of 2022.
Moreover, following the discussion at PRF-20, APT Web Dialogue "COVID-19 and Cybersecurity: what's happening and how to respond (policy01)" was held on 21 July as a part of PRF-21. This web dialogue focused on the impact of the COVID-19 pandemic in cybersecurity to address one of the important aspects of the Strategic Plan of APT for 2021-2023.
Click here for more details.
APT Web Dialogue "COVID-19 and Cybersecurity: what's happening and how to respond (policy01)" : 21 July 2021
This web dialogue under Policy series was held back-to-back with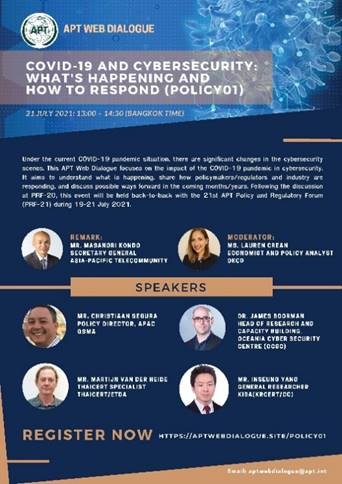 the 21st APT Policy and Regulatory Forum (PRF-21) during 19-21 July 2021. A total of 270 participants from APT members and other organizations joined this dialogue which focused on the impact of the COVID-19 pandemic in cybersecurity aspect.
The web dialogue featured Ms. Lauren Crean, Economist and Policy Analyst, Organisation for Economic Co-operation and Development (OECD) as Moderator and a number of prominent speakers, namely:
· Mr. Christiaan Segura, Policy Director, APAC, GSMA
· Dr. James Boorman, Head of Research and Capacity Building, Oceania Cyber Security Centre (OCSC)
· Mr. Martijn van der Heide, ThaiCERT Specialist, ThaiCERT/ETDA
· Mr. Inseung Yang, General Researcher, KISA (KrCERT/CC)
The web dialogue provided useful information on the scenario on cybersecurity during the COVID-19 pandemic, the response of the policymakers/regulators and industry players, and possible ways forward in the coming years.
For detailed information on the upcoming APT Web Dialogues, please visit https://aptwebdialogue.site/home.
APT Web Dialogue  "Spectrum Management: Assignment methods
and possible pricing methodologies for 5G spectrum (SM01-03)"
29 July 2021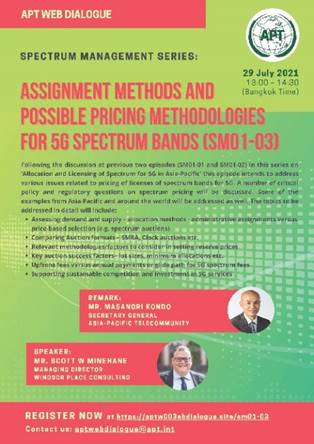 This 3rd episode (SM01-03) of the Spectrum Management series was attended by over 130 APT members. Following the discussion at previous two episodes (SM01-01 and SM01-02), this episode addressed various issues related to pricing of licenses of spectrum bands for 5G.  The speaker, Mr. Scott W. Minehane, shared information and views on topics including:
• Assessing demand and supply – allocation methods - administrative assignments versus price-based selection (e.g., spectrum auctions)
• Comparing Auction formats – SMRA, Clock auctions etc.
• Relevant methodologies/factors to consider in setting reserve prices
• Key auction success factors– lot sizes, minimum allocations etc.
• Upfront fees versus annual payments or glide path for 5G spectrum fees
• Supporting sustainable competition and investment in 5G services
For detailed information on the upcoming APT Web Dialogue, please visit https://aptwebdialogue.site/home.
Upcoming Events
The 18th APT Telecommunication/ICT Forum (ADF-18)
24 - 26 August 2021, Virtual Meeting
ADF-18 will look at policies and efforts to reduce the digital divide in the aspects of affordability and reliability. It will also introduce the current status of the Low Earth Orbit satellite communication industry, which is attracting attention as one of the possible ways to reduce the digital gap as technology advances and discuss its impact in the Asia-Pacific region.
In addition, the forum will consist of sessions to introduce technologies and methods for constructing cost-effective networks, while looking at new technologies of IoT that are continuously evolving in combination with related technologies such as AI, 5G, Bigdata, and sharing successful applications of IoT. The forum will also be a platform to share the outcomes and achievements of the ICT Pilot Projects in rural areas and other ICT projects funded by the Extra-Budgetary Contributions (EBCs). ADF-18 will share the current status and achievements of the projects funded by EBCs from Japan, Republic of Korea and P.R China.

APT Web Dialogue  Spectrum Management: Interactive panel discussion on key issues on allocation and licensing of spectrum
for the deployment of 5G (SM01-04)
30 August 2021, 13:00-14:30 hrs. (Bangkok Time)
This 4th episode (SM01-04) of the Spectrum Management series will address some concerns by the policy makers, regulators and industry on those key issues. Multi-sided discussion will try to address the challenges associate with the issues and try to focus on exemplar approaches. It will be followed by Q&A and comments by the participants.

The panelists for this episode include:

· Ms. Rachel Blackwood, Assistant Secretary, Spectrum Branch, Communications Infrastructure Division, DITRDC, Australia

· Dr. Denny  Setiawan, Director, Spectrum Policy and Planning

· Mr. Ilyas Ahmed, Chief Executive Officer, Communications Authority of Maldives

· Dr.  Jaewoo Lim, Senior Researcher,  National Radio Research Agency, MSIT, Rep. of Korea

· Ms. Ye Min, Senior Manager of Radiocommunication Standard, Spectrum and Policy, Huawei Technologies

· Mr. Foong Chee Keong,

Group Head of Regulatory Affairs at Axiata Group Barhad, Malaysia

SATRC Workshop on Policy, Regulation and Services
31 August - 1 September 2021, Virtual/Online Meeting
This SATRC Workshop is a part of the implementation of SATRC Action Plan Phase VII, which was approved by the 19th SATRC meeting
held in 2018 in Islamabad, Pakistan. The objective of the workshop is to give an in-depth analysis on the following work items under the SATRC Working Group on Policy, Regulation and Services, i.e., Regulatory approaches to enhance QoS of Mobile Operators, Digital Financial Services, and  Harmonizing ICT indicators in SATRC.
The workshop will also cover the policy and regulatory initiatives and best practices to advance digital transformation of the economy and the society in the context of South Asia. It will give an opportunity for the SATRC Members to share their experiences and knowledge, identify bottlenecks and find solution based on collaboration to provide connectivity and online access to ICT services.

The 28th Meeting of the APT Wireless Group (AWG-28)
6 - 14 September 2021, Virtual Meeting
The APT Wireless Group (AWG) covers various aspects of emerging wireless systems to meet the upcoming digital convergence era in the Asia-Pacific region. It also assists to provide effective radiocommunication solutions and to facilitate the transfer of technology and knowledge.
The AWG-28 will report on the progress of its activities and further discuss the relevant topics and issues.

APT Web Dialogue "Machine Learning and Deep Learning –
Machines Getting Smarter and Smarter (tech03)"
16 September 2021, 10:00-11:30 hrs. (Bangkok Time)
This web dialogue is a collaboration with the Asia Institute of Technology (AIT), an eminent international postgraduate institution based in Bangkok. 
Machine Leaning and Deep learning is an intelligent way for machine to learning things to simulate the behavior of the human-like intelligence. This dialogue will include topics such as AI, Major AI Learning and developing machine learning applications related to business application etc.

The 14th APT Policy and Regulation Forum for Pacific (PRFP-14)
21 - 23 September 2021, Virtual/Online Meeting
PRFP provides a platform for members in the Pacific to share and exchange valuable views and experiences on issues of common concerns in order to achieve a more harmonized ICT environment in the region.
PRFP-14 will continue to address various topics in line with the common interests and issues in the Pacific region such as Connectivity, Innovation, Trust and Safety which are also strategic pillars of the APT Strategic Plan from 2021 to 2023. It will have the Roundtable for Ministers, Head of Regulators or high-level officials to share their experiences and exchange views on the latest updates of policy and regulatory issues including digital transformation during the COVID-19 pandemic. The Forum will also cover topics such as connectivity, cybersecurity, OTT and social media platforms, Disaster Management in the Pacific.

SATRC Workshop on Recent Trends and Technologies
27 - 28 September 2021, Virtual/Online Meeting
This SATRC Workshop is a part of the implementation of SATRC Action Plan Phase VII for 2019–2020, which was approved by the 19th Meeting of the SATRC held in Islamabad, Pakistan in 2018 and was extended to 2021 for implementation at the SATRC-21 held on 27-28 October 2020 because of the COVID-19 pandemic. The workshop will focus on recent trends and technologies for providing connectivity and encouraging innovation.

The 3rd Meeting of the APT Preparatory Group
for WTDC-21 (APT WTDC21-3)
5 - 8 October 2021, Virtual/Online Meeting
APT WTDC21-3 is expected to consider the input contributions from APT members; review outcomes of RPM-ASP; review outcomes of the views of other regional organizations; review outcomes of TDAG and Council 2021; and develop Preliminary APT Common Proposals for WTDC-21.

The 9th Meeting of the Working Group of
Management Committee on APT Legal Instruments (WGMC-9)
20 - 21 October 2021, Virtual/Online Meeting
WGMC-9 will review and discuss the tasks assigned by MC-44, i.e., Guidelines on Public Access to APT documents, use of terminology reflecting gender neutrality in APT documents and needs on collaboration or to conclude Memorandum of Understanding (MOU) with other international/ regional organization

The 3rd Meeting of the APT Conference
Preparatory Group for WRC-23 (APG23-3)
8 - 13 November 2021, Virtual/Online Meeting
The objectives of the APG23-3 are to review the results of the APG23-2 meeting; update APT preliminary views on WRC-23 Agenda Items based on input contributions from APT Members; consider the progress in ITU-R Study Groups in relation to WRC-23 Agenda items and take necessary actions as appropriate; review the activities of other regional organisations, in particular, their preliminary views/positions with a view to fostering inter-regional cooperation.
APG23-2 will also review issues related to RA-23 and develop preliminary views of APT, if any; contribute, where necessary, to the activities of APT Preparatory Group related to PP-22 with respect to the issues relevant to the purview of the APG; finalize review of the Working Methods of APG in relation to preparation for RA-23 and WRC-23 and submit draft amendments accordingly to the APT Management Committee; and discuss APT preparations for the ITU Inter-regional Workshop on WRC-23 Preparations.


Quick Links to APT Work Programmes and Activities
To ensure that you always receive our updates, please inform any changes of contact details
by email to [email protected]  to ensure effective communication.