26 September -14 October 2022, Bucharest, Romania
APT Members and APT Secretariat attended the ITU Plenipotentiary Conference 2022 (PP-22) held from 26 September -14 October 2022 in Bucharest, Romania. The conference brought together over 3,000 delegates, including government ministers or officials from 183 of ITU's 193 Member States, as well as international and regional organizations, academia, and private-sector representatives. Member States elected five top officials of the ITU including Secretary-General, Deputy Secretary-General, and Director of the three Bureaus of the ITU for the next 4 years term. Mr. Seizo Onoe from APT region was elected as Director of ITU's Telecommunication Standardization Bureau.
APT held eight (8) APT Coordination Meetings during PP-22. The objectives of the APT Coordination meetings were to ensure that the APT Common Proposals (ACPs) to the PP are presented timely and effectively. To facilitate smooth and timely communication among APT members prior to and during PP-22, APT Secretariat launched communication channels over WhatsApp mobile application in addition to email reflectors. The focal points of ACPs actively participated in the discussion of relevant Committees and other meetings during PP-22 and reported on progress of discussion relevant to ACPs at APT Coordination Meetings. APT Secretariat also coordinated the nomination of office bearers of Council Working Groups and Council Expert Groups from APT region.
APT submitted 23 ACPs to PP-22 and majority of the ACPs were accepted in principle. APT Members took important roles during the Conference including Chair and Vice-Chairs of Committees, Chairs of Ad-Hoc Groups and Chair of Information Consultation Groups.
Mr. Masanori Kondo, Secretary General of APT and Ms. Caroline Greenway, Chair of APT Preparatory Group for PP-22, as regional coordinators for Asia-Pacific region were recognized with certificates of appreciation for their hard work in leading preparations for the Plenipotentiary Conference (PP-22).
PP-22 adopted the ITU's strategic and budget plans for 2024-2027, and the Final Acts which is the collection of all the resolutions adopted at the PP-22 was signed by157 Members on the last day of the conference.
During PP-22, Mr. Masanori Kondo, Secretary General of APT, had meetings with high-level officials of APT Members to discuss issues of interest as well as ways to enhance coordination and collaboration.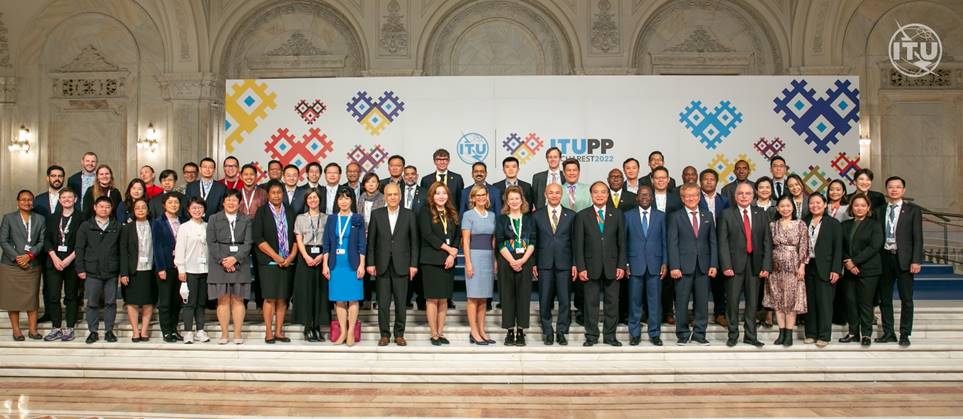 Group Photo with ITU Elected Officials